About Our Company
We've been focused on quality since 1984.
Blue Ridge Lawn Care had begun to take shape in early 1984. Our founder, Joe Stearman, had started mowing lawns for extra money while he was in high school. It wasn't long after his high school graduation that he found mowing to not only be a surprisingly good business but also had a newfound passion for lawn care. Only three years later he had decided to take a risk and see what he could accomplish if he were to hire someone else. As they say, the rest is history.
Today, Blue Ridge has grown into a full-service lawn care provider for the greater Alexandria area. Joe and his team have made a lot of changes over the years – earning education and accreditations, learning new skills, and keeping a business up to date in an ever-changing world.
But despite all of the changes, some things have never changed. Blue Ridge began as and has always been a customer-first focused business. Ensuring the success and comfort of our clients has always been and will always be the first priority.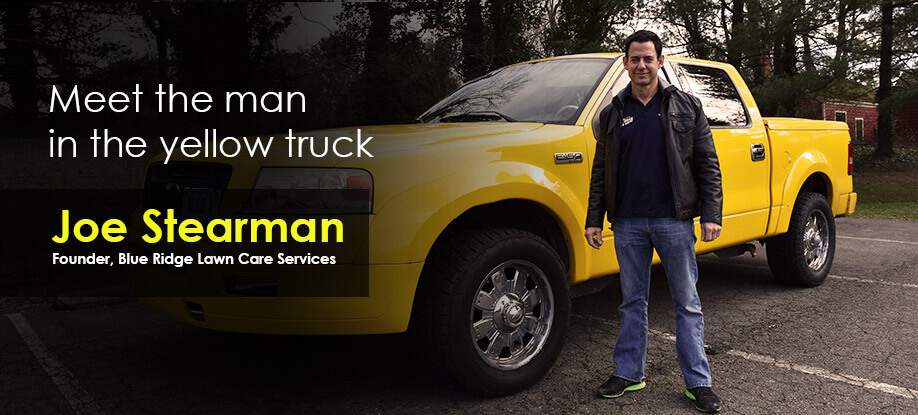 Our team has been delivering outstanding landscapes best-in-class customer service for nearly 40 years. Our attention to detail, commitment to excellence, and track record success ensure that you will get the result you're looking for.
You are the heart of our business and we look forward to getting to know you and working together to make your lawn and landscaping goals a reality.
Why Choose Blue Ridge?
For nearly 40 years, Blue Ridge has been the premier choice for lawn care in the Alexandria area. We have built our business on professionalism and expertise in our field, meaning you will always have a quality result and a highly experienced professional walking you through the process. We are locally owned and operated, so you can trust we put just as much care and respect into our community as you do. Give us a call today to see what passion and professionalism can do for your lawn.
Blue Ridge is proud to serve the Alexandria area with the same professionalism and expertise as we have for nearly 40 years. We are a team of highly-trained professionals, who use our years of experience to bring our clients' goals from paper to reality. Respect for our clients' preferences, budget, and unique lawn care needs is always the primary focus of our team.
Ready to Get Started?
Send us an email or give us a call for what we can do for you!